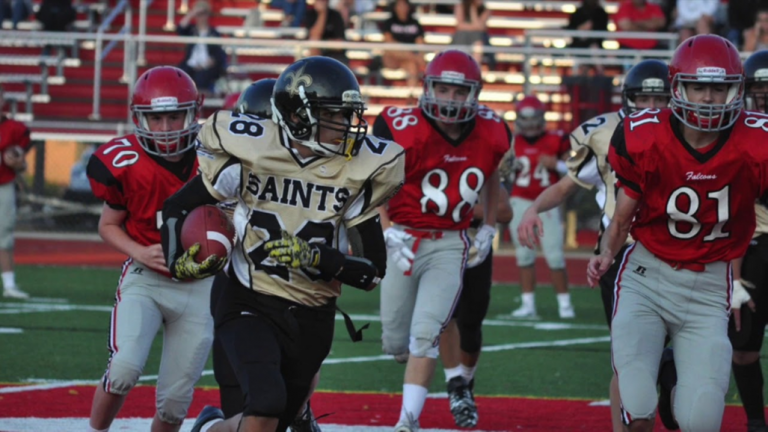 Washtenaw Saints
Fall 2022
Tackle football for boys (ages 14-18, some 13)
– Building Godly character
– Encouraging healthy comraderie
– Turning boys into strong/confident men of faith
Our Team:  We're a hybrid JV/Varsity team; Christian framework
Our Ages:  14-18; some 13
Clarification: The Ann Arbor Saints, unrelated, play at the middle school level
Our Location:  Practices @ Domino's Farms; home games in Saline
Our Schedule:  1st game 8/25/22; final game 10/24; 6 games scheduled so far; aiming for 8 games in all
Our Practices:  Conditioning begins 7/18/22 (MTTF); Practices begin 8/1 (MTWT in Aug & varied in Sept/Oct); at Domino's Farms; 6pm start
Our Opponents:  Public school JV teams (11-man) & a couple 8-man varsity teams
Our Home Field:  Saline Middle School (Crabtree Field) in Saline
Our Cost:  Last year the registration fee was $300 & the equipment fee was $100.  The fees are expected to be no higher in 2022.
Our Coaches:  Kirk Parrish (his 3rd year as head coach) & multiple asst. coaches
Info Meeting:  Stay tuned for early June info meeting.
For Further Info:  Contact Dave under ccannarbor.org/contact-us
To Register:  Go to www.cal-a.net (registration set to open in early June).
This is the Washtenaw Saints booster site, sponsored by Calvary Chapel Ann Arbor.  Note that the Washtenaw Saints are an independent Christian ministry, supported and encouraged by many churches and individuals.
Keywords: Tackle football, Ann Arbor, Ypsilanti, Saline, Whitmore Lake, Dexter, Chelsea, Milan, Washtenaw County, Christian, high school.